Tennis WinWin
Tennis Events

New! Fall MCTA "Shots & Ladders" League
For 3.0 Women
Registration Open - See Details!

Fall MCTA 2.5 Ladies Mini-League in
Montgomery CountyMaryland Registration Open - See Details!

Fall USTA 2.5 Ladies Mini-League in
Northern VirginiaVirginia Registration Open - See Details!
Next MCTA Event: "Welcome Fall" Tennis Social & League Launch

Who:
All 3.0 & 3.5 Adult Players Get ready to enjoy the beautiful fall tennis seson with a delightful morning of social doubles. Tennis will be organized by ability levels, so all adults are welcome! You do not need to have a partner or belong to USTA to attend.
What:
"Welcome Fall" is one of MCTA's successful and fun series of tennis events designed to give players a fun morning of tennis and to help interested players join new or existing teams for the upcoming Fall season.
Where:
Montgomery TennisPlex Rain or Shine - Indoor Courts with a/c!
South Germantown Recreation Park
18010 Central Park Circle Boyds, MD 20841
When: Sunday morning, August 28, 2016, 9:30am-12:30pm
Why:
Fall for Tennis! Play social matches, meet players, join a team!
How:
Throughout the event, Ann & Bev of Tennis WinWin will arrange rounds of doubles play and provide some unique tennis "extras." Light refreshments will follow. During this time Ann & Bev will answer questions about fall leagues, and collect information from players so that MCTA will be able to help players join new or existing teams.

Fall Leagues (teams organized by USTA ratings):
Men's, Women's, and Mixed Combo
Men's and Women's Tri-Level
Mixed Doubles, age 55 and over,
Fall Season: September 19 - December 11, 2016.
(Team captains need to register teams by September 2.)

In the Combo league, players on each team in a match may have different ratings, as long as the total does not exceed the league's limit, which could be 5.5, 6.5, 7.5 or higher. Tri-level leagues field three teams in a match, each with a different rating.
Flyer: Download flyer here
Photos:
See the photos from last year!
Cost:
$35/player, prepaid through the MCTA online store.
Space is limited, so sign-up now!
Last Minute Registration: The MCTA online store closes for online registration when event full or at 5:00 pm on Friday, August 26, 2016, which ever comes first. After that time, you may contact Ann Bent to sign up and pay at the door (cash or check). Call 561-289-2299, or email ann@tenniswinwin.com.
Directions: Montgomery TennisPlex
Previous Event with MCTA


"Sundae Friday" Tennis Social
July 15, 2016


The Aspen Hill Club

Thank You for Attending "Sundae Friday"
We Had a Cool Time!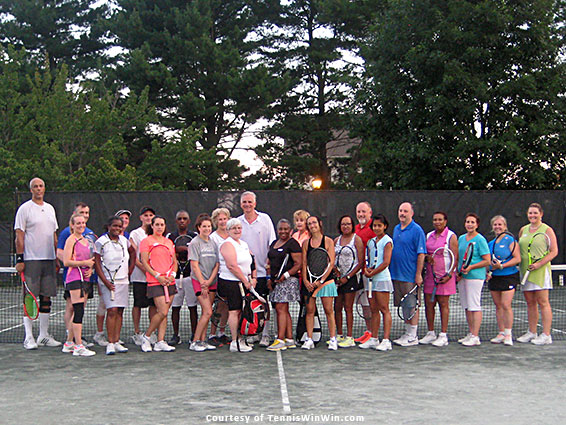 Previous Event with Montgomery TennisPlex




"Racquets & Rockets"

Adult Tennis & Fireworks Party
In Support of

"Tennis Thanks the Troops"


July 4, 2016


Montgomery TennisPlex

Thank You for Attending "Racquets & Rockets" and
Supporting "Tennis Thanks the Troops!"