Tennis WinWin, LLC
Tennis WinWin is the premier tennis company serving Maryland and the DC metropolitan area!
Tennis WinWin provides clubs, associations, pros, and players with WinWin solutions for tennis events, programs, leagues, and marketing.

"All the King's Men" Photo Gallery


Hong Tennis Training Centre, April 19, 2013
New!
"Clickable"Photo Collage for Easy Copying and Downloading!
Now you may copy or download any photo to use for
Facebook pages, email attachments, albums,

etc! All you need to do is right click on a photo in the collage and select one of the options. That's it! Very easy!
These photos are small, which makes them perfect for internet and email use. If you would like a larger, high resolution file so that the photo can be enlarged or will print more clearly, please contact Bev and she will be happy to send it to you free of charge!
"All the King's Men"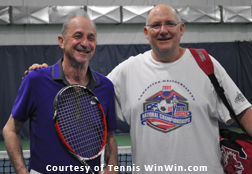 Tournament Winners

1st Place, Tommy Heintschel
(left)

2nd Place, Scott Lansing
(right)

For this tournament, Tennis WinWin was privileged to inaugurate the unique
Heintschel Round Robin Scoring System,

courtesy of Tommy Heintschel.