2.5 Ladies Mini-League: Information & Registration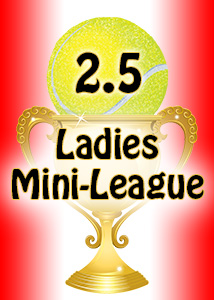 MCTA 2.5 Ladies Mini-League
The Aspen Hill Club
14501 Homecrest Rd.
Silver Spring, MD 20906
Sundays: Jan. 21 - Feb. 25, 2018
Time: 4:00-5:30pm
Registration: FULL

Map & Directions
Current Season Schedule & Scores
General Information
The Ladies 2.5 Mini-League is a six-week, same time and location, tennis leagues for women new to tennis competition. Initiated in Montgomery County under the management of Tennis WinWin, the popular new league has been repeated several times to great success. The league is designed for players interested in gaining competitive doubles experience for league play in an enjoyable, "learn a lot" environment. It is held for six consecutive weeks on Sundays, and each player is guaranteed 4 matches during the season.
Is the Mini-League Right for You? If you are wondering whether you are ready for the Mini-League, here are some questions. Can you hit the ball back and forth over the net a few times? Does your serve go into the box? Do you know how to score - more or less? And most important, do you love tennis? If so, you are in! This League is fun, and introduces you to competition without any pressure-cooker stress.
Flyers. Download flyer for Winter season at Aspen Hill.
Match Format. All players will be scheduled to play four of the six weeks. Each player is randomly assigned to one of two teams and will play four matches with different teammates. Ann and Bev of Tennis WinWin captain the two teams, create the schedule and lineups, maintain the scoring site, send weekly updates, and provide encouragement and tips to the players at each week's match. At the end of the season, Tennis WinWin hosts a party and players on the winning team receive trophies. See Match Format details - printable copy.
League Size & Cost. The Mini-League is limited to 18 players. The cost is $125/player and is prepaid online through MCTA.After registration closes, players will be requested to provide availability dates (for any needed byes) and the schedule will be sent out the week before the first match. The Mini-League has frequently sold-out, so register promptly!
Questions. If you have any questions regarding the 2.5 Ladies Mini-Leagues, please contact Ann Bent, ann@tenniswinwin.com, 561-289-2299.
*Waiting List and Priority Registration
If a League is full and regstration is closed, and you would like to be on the waiting/sub list, or on the priority mailing list for the next season, please contact Ann Bent, ann@tenniswinwin.com, 561-289-2299.